Smithsonian Museum / Museu Smithsonian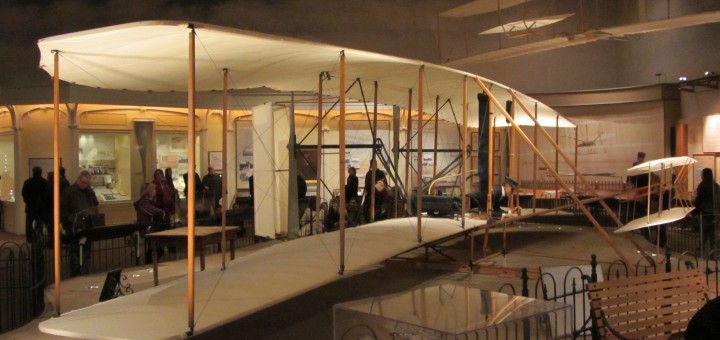 Afgelopen zaterdag zou het rotweer worden, dus: lekker naar het museum. Daar zijn er hier genoeg van! Hier in Hampton is het
Virginia Air and Space Center
, In Newport News is het
Virginia Living Museum
en er is hier iedere 40 voet een civil war museum afgewisseld met musea over leger, luchtmacht, marine en andere strijdkrachten. Maar zaterdag zijn we naar het
Smithsonian
in Washington gegaan.
Het Smithsonian bestaat uit een verzameling van 19 musea, allemaal gratis, waarvan de meeste aan de National Mall liggen (zie ook de post over ons bezoek aan Washington een paar weken geleden). Wij gingen natuurlijk naar het Smithsonian Air and Space museum. Eigenlijk zijn er daarvan twee, eentje in de stad zelf, en een veel grotere bij het vliegveld (Dulles). Maar die laatste hadden we al eens gezien.
's Ochtends hadden we de auto bij metrostation Van Dorn Street geparkeerd, om met de metro naar het centrum van de stad te gaan. Onderweg kwamen we nog een allervriendelijkste dame tegen die voor haar pensioen bij homeland security had gewerkt. Ze was wel nieuwsgierig wat wij in de VS deden, en "we waren vast erg blij met alle kennis die we hier konden opdoen en dan naar ons eigen land mee terug konden nemen." Diepe zucht, niet op ingaan…
Het museum zelf is erg mooi, en ze hebben er een flinke stapel bijzondere vliegtuigen staan en hangen. Onder andere de originele Wright Flyer (het "eerste" vliegtuig), de X1 (eerste supersonic vliegtuig), de spirit of St. Louis (eerste non-stop oceaanoversteek), de SpaceShipOne (eerste commerciele ruimtevaarttuig) en ga zo maar door. Erg de moeite waard!
Om 5.30 ging het museum (veel te vroeg naar mijn zin) dicht. Op de terugweg hebben we in Richmond nog een hapje gegeten, al met al een hele geslaagde dag! Nog 18x en dan hebben we het hele Smitsonian gezien

No Sábado passado estava previsto mau tempo, por isso: lá fomos nós para o museu. Por aqui há mais do que suficientes! Em Hampton há o
Virginia Air and Space Center
, em Newport News há o
Virginia Living Museum
e a cada 40 metros há um museu sobre a guerra civil intercalado com um museu do exército, força aérea, marinha ou outro corpo militar. Mas no Sábado fomos ao Museu
Smithsonian
em Washington.
O Smithsonian é uma colecção de 19 museus, todos com entrada grátis, a maioria deles dispostos ao longo do Washington Mall (vejam o nosso post sobre Washington de há umas semanas atrás). Nós, claro, fomos ao Smithsonian Air and Space Museum (Museu Smithsonian do Ar e Espaço). Há dois destes museus, um na cidade e outro maior perto do aeroporto (Dulles). Este último já tínhamos uma vez visitado.
De manhã estacionámos perto da estação de metro de Van Dorn Street para apanharmos o metro para o centro da cidade. No caminho uma senhora meteu conversa connosco. Ela tinha trabalhado para a homeland security (segurança interna dos EUA) e estava curiosa sobre o que nós estávamos a fazer aqui nos Estados Unidos. Quando dissémos que trabalhávamos para a NASA, ela disse qualquer coisa do género "que devíamos estar contentes com esta oportunidade de levar conhecimento de volta para os nossos países". Suspiro… nem vale a pena começar uma discussão.
O Smithsonian Air and Space Museum é bonito e tem um monte de aviões pendurados bastante especiais. Entre outros, tem o Wright Flyer original (o "primeiro" avião), o X1 (o primeiro avião supersónico), o Spirit of St. Louis (o primeiro a fazer a travessia do Atlântico sem parar), o SpaceShipOne (o primeiro veículo espacial comercial) e por aí adiante. Valeu a pena a viagem!
Às 5.30 o museu fechou (demasiado cedo, a meu ver) e a caminho de casa parámos em Richmond para jantar. Um dia bem passado! Mais 18 vezes e ficamos com o Smithsonian todo visto